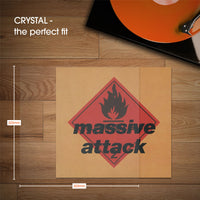 12" CRYSTAL STANDARD Polypropylene Outer Sleeves (100 Pack)
Regular Price

£14.13

Sale Price

£14.13

Regular Price

Unit Price

per
Product Features


Standard Sleeve - This is a standard sleeve. Please purchase CRYSTAL GATEFOLD if you want to be able to view your gatefold artwork without removing the record from the plastic sleeve.

Crystal Clear – Our 12" record sleeves are manufactured from crisp clear, polypropylene. They have been designed to be durable and robust, whilst not compromising on appearance. You'll be amazed at just how good your album covers and spines look with CRYSTAL!

For Single & Double LPs - Can be used with Single, Double, and most Triple Gatefold records. Each sleeve measures 32.3cm x 32.3cm. This provides a snug fit with a minimum of excess plastic, giving your collection a clean, uncluttered look.

Why Polypropylene? - It's crystal clear, strong, and has a crisp tactile feel. Which any collector will appreciate when looking for their next spin. Plus, it won't cloud like polyethylene and its both moisture and odour resistant.

Acid Free - Why risk PVC sleeves, which can OFF GAS and damage your precious vinyl? Our CRYSTAL sleeves are ACID FREE and will protect your collection for decades to come.

Product Description

Our CRYSTAL record sleeves are quite simply a game changer for your albums.

Manufactured from 75-micron polypropylene, they provide a combination of crystal-clear presentation and exceptional durability. In other words, they look great and are built to last.

They are also versatile, offering a crisp, snug fit for Single, Double, and most Triple Gatefold LPs.

For best results combine with our DYNAMIC or AUDIOPHILE anti-static inner record sleeves for the ultimate long-term protection.

Outer Sleeve Range

If you are looking for a more rugged sleeve with UV protection, check out our DENSITY range.

For a fully enclosed, resealable sleeve, see our CLARITY range.