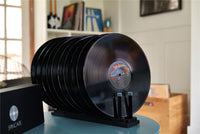 RCM Drying Rack
Regular Price

£14.13

Sale Price

£14.13

Regular Price

Unit Price

per
Product Features

Universal – Use with the SPINCARE record cleaning machine (RCM) or vinyl record cleaning kit for best results. However, the rack can be used to supplement any cleaning machine or process.

Clean Batches Faster – Dries up to 10 7"/10"/12" vinyl records at a time. Combine with further drying racks to increase the capacity even further and clean your collection even faster.

Prevents Mould Growth – If any moisture remains after cleaning records, then this provides ideal conditions for mould growth. A drying rack provides a convenient and safe way to completely dry your records before sleeving them. 

Bulk Savings – Purchase additional racks at the same time for an additional discount.

Product Description
The SPINCARE drying rack can be used to add extra capacity to your record cleaning process. If you're already using our RCM, then an additional rack will enable you to clean 20 records per batch. If you're using our record cleaning fluid, or kit, then the rack allows you to clean 10 records at a time, rather than wiping, cleaning and dry individual records. You should allow your records to completely dry before sleeving them to prevent any mold growth. 

Cleaning Range

We have 3 levels of cleaning kit available;

Record Cleaning Fluid – Low cost but effective cleaner solution with microfibre cloth. Recommended for smaller collections and for buyers who already have a record cleaning brush and stylus cleaner.

Record Cleaning Kit – Includes cleaning fluid, record cleaning brush and stylus cleaner in a competitively priced bundle. Contains everything you need to get started with record cleaning and maintenance.

Record Cleaner Machine - Cleans faster and deeper than our record cleaning fluid kit. Contains enough supplies to clean 500 records. Recommended for larger collections, as well as heavily soiled records.