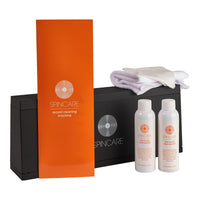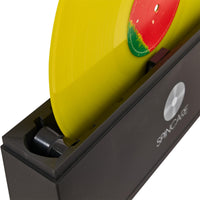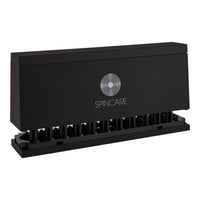 Record Cleaning Machine
Regular Price

£41.63

Sale Price

£41.63

Regular Price

Unit Price

per
Stock Due - 11th December
The SPINCARE® Record Cleaning System (RCM) is designed for cleaning batches of 25-50 records per session. The kit contains almost everything you need to clean your records. Just add distilled or deionised water and you're ready to bring some shine back to your collection.
It offers a major step up in performance and convenience from cloth / spray-based systems, whilst remaining an economical investment for the vinyl record enthusiast. It is compatible with 7" / 10" / 12" vinyl records.*
If you have never cleaned your records, then you're in for a pleasant surprise. Any record that has been stored for any period of time is likely to have a build-up of dirt and contaminants in the grooves, even if you can't see them. Removing this dirt effectively removes a wall between your record and stylus, resulting in significant improvements in audio reproduction.
We developed this machine after becoming frustrated with the current machines on the market. Common customer complaints include one machine leaving the record full of wet gunge that ends up melting into your stylus. Another, covers the record label in a soapy cleaning solution, damaging it permanently. Our machine suffers from neither of these issues.

Setting the machine takes less than five minutes and is very easy to use. Simply unpack the machine, click the rollers and velvet cleaning brushes into place, add the cleaning solution and you're ready to start cleaning records.
To use the machine turn the record 3 times one way and then 3 times the other. Take the record out of the machine and wipe it in a clockwise direction with the microfibre cloths. Place it on the drying racks (which can store 10 records) until it is completely dry. Repeat as required.
Once you have finished your cleaning session, pour the remaining cleaning solution down the sink. As you do so, look at all the dirt and gunk that's no longer on your records. Satisfying! For your convenience, all of the accessories fit into the record washer basin for storage.
Contents
1 x Record Washing Sink
1 x Drying Rack (hidden under the sink for convenient storage)
2 x Super Soft Velvet Cleaning Brushes
2 x 150ml Proprietary Cleaning Solution (enough for 500 records)
2 x Microfibre Drying Cloths (30cm x 30cm)
2 x Brush Rollers
1 x Instruction Manual
Instructions:

          

Please see our other listings for low-cost replacement supplies for the SPINCARE RCM.

We are up to 50% cheaper on our refills & replacement supplies than other competitors and all SPINCARE items come with a 100% MONEY BACK GUARANTEE.
Click the links to purchase replacement supplies;
Velvet Cleaning Brushes
Rollers
Record Cleaning Solution

*The machine must not be used with Shellac records.