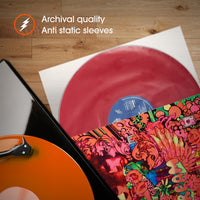 7" AUDIOPHILE Archival Inner Sleeves (25 pack)
Regular Price

£4.13

Sale Price

£4.13

Regular Price

Unit Price

per
Made from high quality HDPE / rice paper, these record sleeves offer an high quality yet affordable replacement for paper sleeves, and a superb accompaniment for cardboard inner sleeves;

A Perfect Fit – Our AUDIOPHILE sleeves are a perfect for your 7 inch records. They can either slide inside a printed cardboard inner sleeve, or replace a worn paper sleeve. They will not bunch or overhang your sleeve, whilst providing full protection for the record.
Triple Layered – A 7" piece of rice paper is sandwiched between 2 layers of anti-static, anti-dust and anti-scratch HDPE plastic. This provides the highest possible protection for your records, whilst the paper layer stiffens the sleeve, preventing it from collapsing.
Archival Quality – AUDIOPHILE sleeves will not scratch or leave dirt deposits in your records grooves and they are designed to last. This is why they are trusted by libraries WORLDWIDE to protect their archives of RARE vinyl records for decades to come.
Replace Paper Sleeves – Paper is a poor choice of material for a record sleeve. They are abrasive and scratch your vinyl every time you play them. Paper decays and breaks down over time, leaving dirt deposits in the grooves of your favourite recordings.

What's Wrong with Paper & Cardboard Sleeves?
Paper sleeves can decompose over time, leaving debris on your record. Your stylus won't be happy.
Paper and cardboard sleeves (cardboard particularly) can be very "rough" and can leave hairline scratches on your records, when they are removed.
Paper sleeves are not anti-static. Charged records attract dirt, which needs to be eliminated or playback quality can be significantly affected.