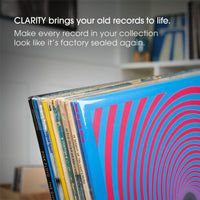 12" CLARITY DOUBLE Resealable Outer Sleeves (25 Pack)
Regular Price

£7.46

Sale Price

£7.46

Regular Price

Unit Price

per
This product was previously known as CLARITY GF. You may receive different packing from the picture (the front of the pack may read CLARITY GF and not DOUBLE). The product you will receive will be the same.
Product Features
Our CLARITY record sleeves offer immaculate presentation of your vinyl records, whilst protecting them from any wear and tear;

For 1-2 Gatefold LPs – Fits 1-2 Gatefold LPs (Single & Double) Each sleeve measures 32.4 x 31.8 x 3.8cm and each pack contains 25 resealable sleeves.
Resealable – There is a seal strip on the body of the bag which completely seals your record, protecting it from dust, debris and scratches. Whilst these sleeves are perfect for collectors, the adhesive stays sticky so the record can be opened and played as normal.
Super Clear – These sleeves make your records look new and shiny again. They are super clear and transparent and offer the best possible presentation for your records. Even old, worn records get a new lease of life with our CLARITY sleeves.
Collect & Protect – Materials like PVC can permanently damage your vinyl record and album cover. Our CLARITY sleeves will keep your records safe and securely sealed for decades to come.

Acid Free - Many vinyl enthusiasts have learnt the hard way what can happen if they choose the wrong product, such as PVC, to protect their vinyl. Our sleeves are 100% acid-free and are made from high quality BOPP.